Diplomas
The Office of the University Registrar facilitates the ordering and distribution of hard copy and electronic diplomas.
International Notification:
Please note some countries/regions are experiencing delays and/or not allowing the delivery of paper or electronic documents. If you are experiencing an issue receiving your paper or electronic documents we want to help- please contact us through SEAM.
Hard Copy Diplomas
Diplomas are mailed to the address provided on your application for graduation, approximately one (1) month after your graduation conferral date appears on your transcript.  Please note graduation processing times vary by school and division.
Delivery dates vary based on domestic or international couriers.  Since the diploma is mailed directly from our vendor, we will not be able to provide tracking information.  However, if you do not receive your diploma after two (2) months from the conferral date, please contact us through SEAM.
Frequently Asked Questions:
"Will a hold on my student account prevent me from receiving my diploma?"
If you have a financial hold, student loan hold or academic hold on your student record, you will not receive a diploma or transcript until the obligation has been fulfilled. This does not prevent your actual graduation or conferral of degree.
"What name will appear on my diploma?"
The default name on all diploma/certificate will be student's legal name as noted in myJH. Students can choose to have either legal name or chosen name as elected in JHU system to display on diploma. Students must reach out to their school registrar if they wish to have the chosen name to be displayed on diploma/certificate.
Please note that for many international students, a diploma is often used as a document to verify proof of graduation for employers and related immigration status changes. There could be potential consequences if their University documents do not match their government applications (e.g., work authorizations, social security card applications, apostille certifications, etc.). The University suggests that students who plan to live, study or work outside the United States use their legal name on their diploma to avoid issues with verification of their educational record. If a student changes their diploma name and later needs a new diploma with their legal name, they will need to order replacement diploma. Standard fees will apply.
Similarly, not all licensing and credentialing boards accept diplomas with chosen name. The University suggests that students contact the licensing boards directly to confirm their requirements.
"How do I change the name printed on my diploma?"
A student's Legal Name will appear on their diploma, unless otherwise requested via SEAM support.
"What degree information will appear on my diploma?"
Degree and major(s) are printed on the diploma. Primary major will be listed first, and additional majors will follow.
"What size are Johns Hopkins University diplomas?"
The dimensions of all Johns Hopkins diplomas are 17″ x 14″.
"Are degree or certificates awarded posthumously"
Please see the JHU Policy and contact the school registrar for more information.
Certified Electronic Diplomas
Certified Electronic Diplomas and Certificates, available to download through myJHU for recently graduated students or by creating an account through Myhub, a service of the National Student Clearinghouse. If you have questions or need assistance, please contact Parchment Support.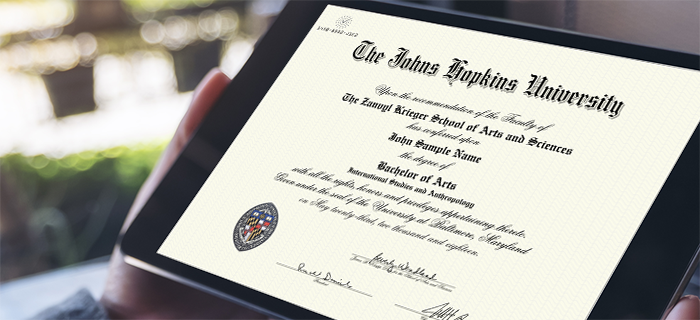 Access now through SIS (recent graduates only)
Access now through Myhub (all alumni)
Key Benefits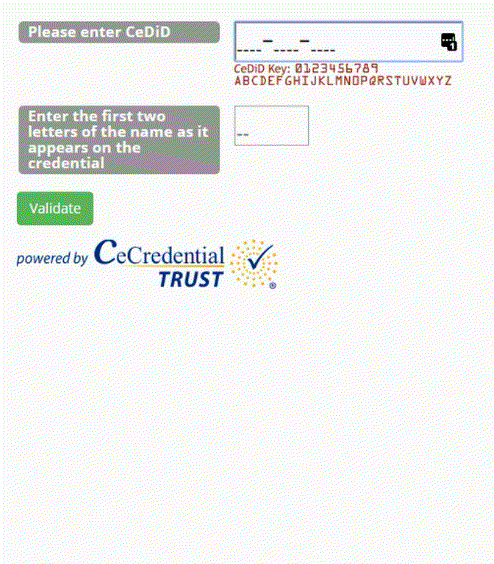 More than a paper credential.

An official, secure and verifiable PDF version of your accomplishment!

Different from a transcript.

Unlimited sharing with family, friends, employers and social media.
Proof of education with only the important details.
Simple for employers to read and understand.

Better than an eDiploma.
Enhances your resume.

Expedite the verification process by providing your CeDiD and validation URL on your resume.
Highly Secure
Each CeDiploma and/or CeCertificate can be independently validated here by future employers, State Government Licensing Agencies and any other entity that wishes to validate your achievement.
The document is digitally signed and encrypted, providing greater trust and acceptance.
For security reasons, the electronic credential cannot be printed.
Note: A credential may not be available for all conferral dates.
For additional information about the Certified Electronic Credential and its features, please visit cecredentialtrust.com.
©2018
CeCredential Trust®, CeDiploma®, CeCertificate® and CeDiD® are registered trademarks
CeCredential™, TruID™ and TruSeal™ are trademarks
Validation Services is patent pending
Replacement Diplomas
Replacement diplomas may be ordered through our online order form.  The diploma will be mailed directly from our vendor, and tracking information is only available if you requested express shipping.  Delivery dates vary based on domestic or international couriers.  However, if you do not receive your diploma after two weeks for domestic destination (four weeks for international destinations) of placing your order, please contact us through SEAM.